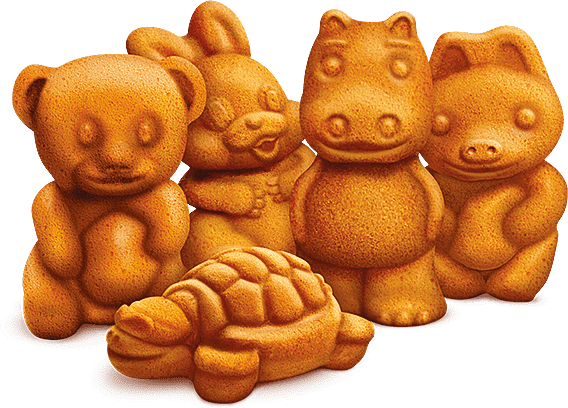 Final product:
Funny Cake with filling
Weight 15g
Sponge cake dough mixing
Planetary mixer SP-​​50HI with bowl incl. 1 extra bowl
Bowl volume: 50 litres
Motor: 1500W, Electro 400V/​50Hz/​3 phases
Amount of Speeds: 3
- 99 rotations/​min
- 176 rotations/​min
- 320 rotations/​min
Sizes (w x l x h): 73 x 64 x 130cm
Weight: 270kg
Amount of bowls: 2
Accessories:
Flat beater
Spiral hook
Wire whip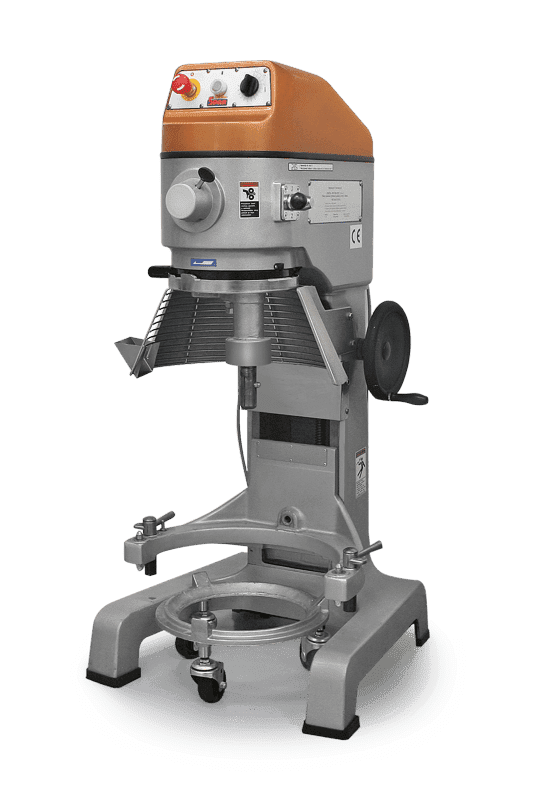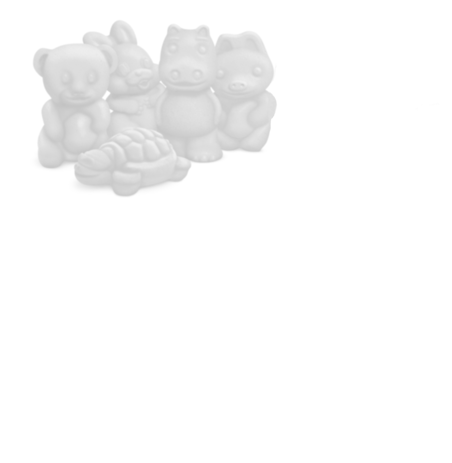 Forming and baking
Funny Cake Machine 2000, electrical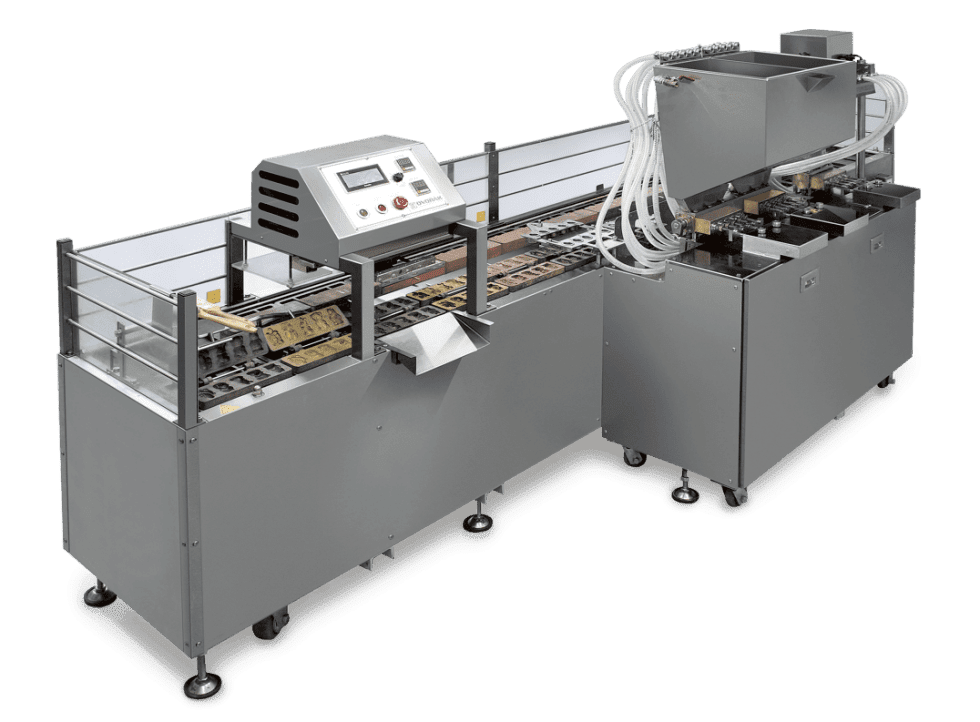 the machine serves for dosing of dough and filling into the moulds, forming and baking of sponge dough products
-dough : sponge dough
-filling : termostable
-construction: stainless steel
-two hoppers for dough – the machine allows to produce two colour products
Machine type: Funny Cake 2000
Baking molds: 26 molds, 5 characters: bear, squirrel, rabbit, turtle, hippo
Baking time: 2,5-3 min
Final product weight: 10 – 15 grams
Filling weight: 3 – 6 grams
Machine length: 3650 mm
Width: 1100 mm
Height: 1440 mm
Weight: 1300 kg
Capacity: 2000 pieces/hour, 30 kg/hour
Energy: Electricity
Electricity consumption: 15 kW
Electricity connection: 3N PE 50Hz, 230/400V/TN-S
Conveyor: Straight, belt conveyor
Conveyor length: 6050 mm
Coneyor height: 800-900 mm
Belt width: 570 mm
Cooling length: 4500 mm
Width of the tunnel: 1200 mm
Height of the tunnel: 1900-2000mm
Belt: Ammeraal Beltech
Electricity: 3N PE 50Hz, 230/400V, TN-S
Input: 5,5 kVA
Protection: IP 42
Shortest cooling time: 40 seconds
Longest cooling time: 11 minutes
Cooling
Cooling tunnel CHTD1
-the tunnel serves for cooling of the finished products before packaging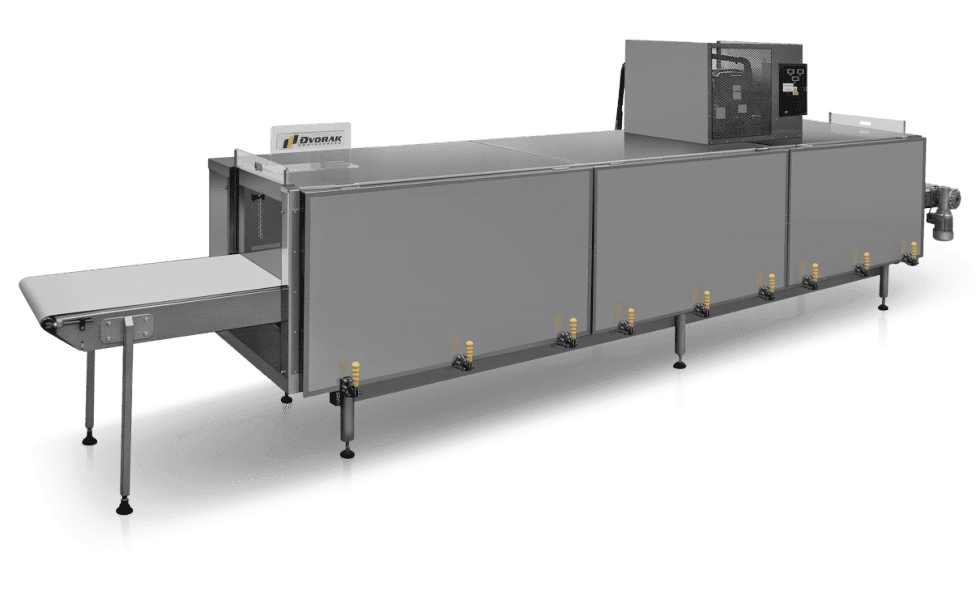 Packaging
Vertical packaging machine HBV5A incl. accessories (infeed conveyor and short outfeed conveyor for packed products)
-the machine serves for packaging of the products produced by Funny Cake 2000 machine into bags, e.g. 5 pieces per bag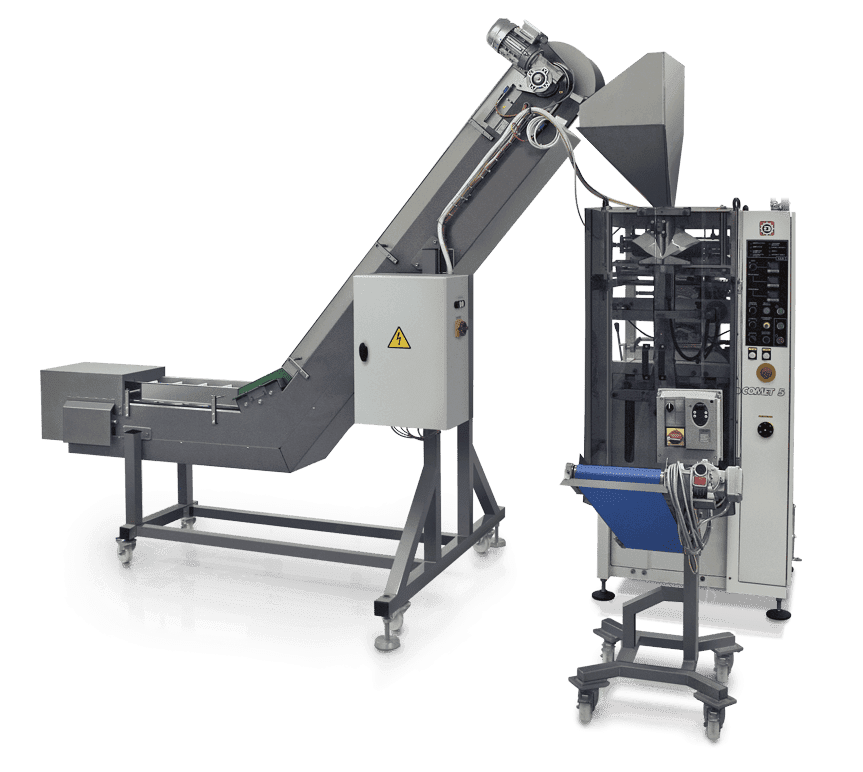 Sizes (without dosing equipment), h x w x l: 1700 x 910 x1370 mm
Weight (without dosing equipment): 350 kg
Maximal width of the packaging material: 480mm
Maximal width of the bag: 300mm
Capacity (depends on the packaging material): up to 40 strokes/min.
Installed input: 2,5kVA
Electrical connection: 3N PE 50Hz, 230/400V/TN-S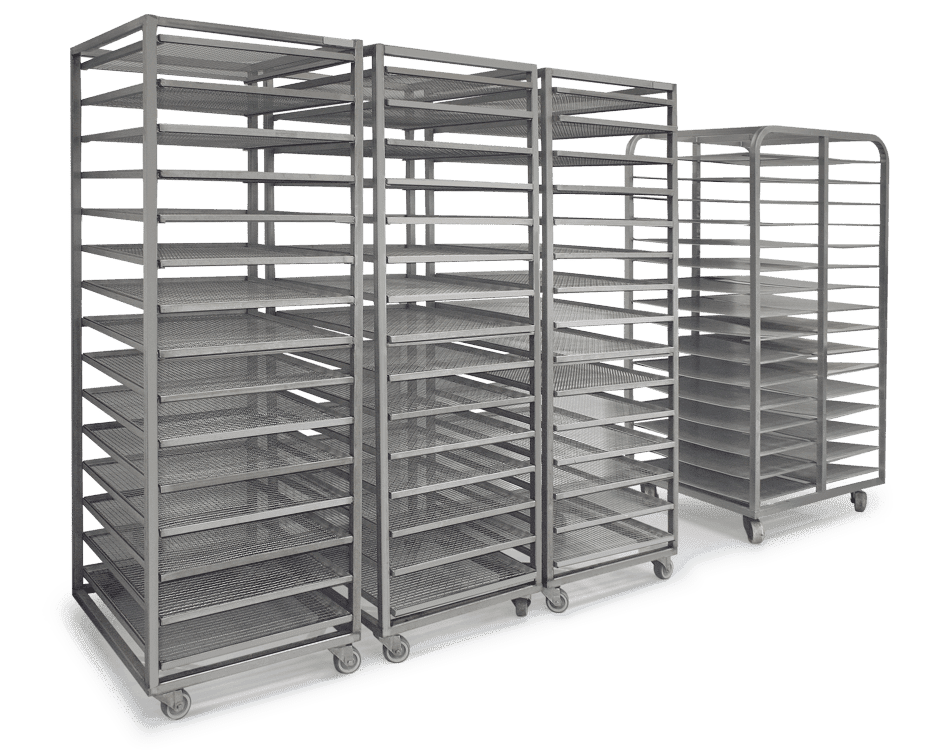 -decks amount: 15
-sizes (h x l x w): 192 x 73 x 67 cm